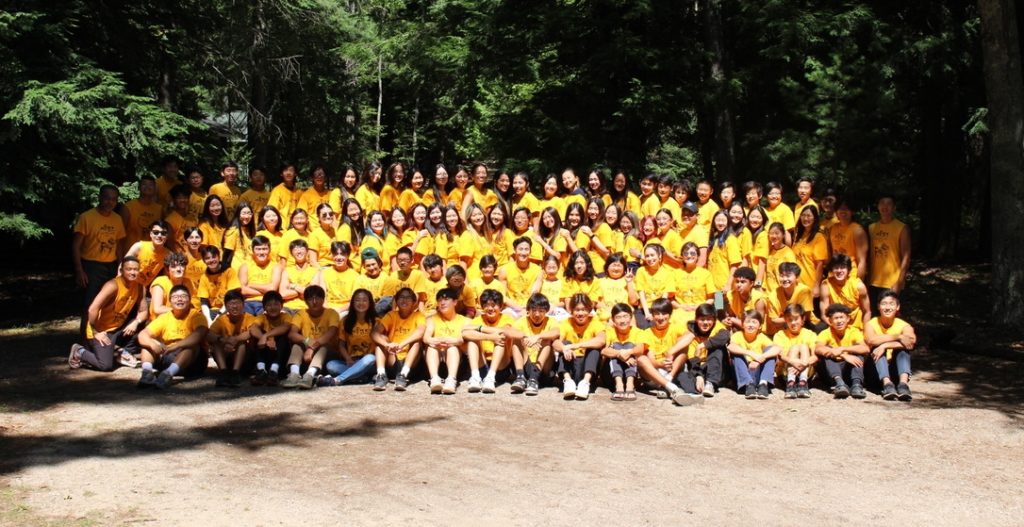 SJC 2022 is now in the books, making a total of 47 years of continuous operation since our founding in 1976. We had a total of 79 campers signed up at the start of camp, but unfortunately 2 campers were unable to attend at the last minute due to testing positive for COVID just before camp. The remaining 77 campers and 23 staff members enjoyed the week COVID-free operating as one pod.
Due to pre-camp vaccination and negative test requirements, as well as camp-wide testing mid-week, the entire community was able to have near-normal activities including eating and singing in the dinning hall, a social dance THU night, skits and daily music classes in Fellowship hall. Keeping the "pod" isolated unfortunately meant we were unable to host our regular visitor's day… a custom we hope to resume next year (health protocols permitting).
Camp would not have been possible without Dr. Jin Park, an SJC alum and parent who provided excellent medical care to our community and kept us all healthy. Thank you Dr. Jin!
Special thanks and recognition go to our retiring Program Director, Jami Chung, who is stepping down after faithfully serving in this role for several years, spending a total of at least 18 summers at SJC in her lifetime. (So far.) We are also very grateful to veteran SJC staffers, Jeremy Witt and Max McCaffery, who have served various roles for almost a decade each. We acknowledge the immeasurable contribution Jami, Jeremy and Max have made over the years and know that they leave big shoes behind them that will not be easily filled.
The success of SJC 2022 was also due in large part to the assistance of the interim Camp Westminster Director, Adam Delezenne. He was most gracious and supportive of our second in-person camp and with his help we were able to have a safe, fun week. I am happy to report that Adam was confirmed as the new permanent Executive Director of Camp Westminster earlier this Fall. We look forward to working with him for many years to come.
Next year SJC 2023 will be held from SUN AUG 6 – SAT AUG 12. I am happy to announce that Hannah Chung, a former camper and long-time staffer, has agreed to serve as Program Director. I know she will do an excellent job in this vital position.
We are starting to think about SJC 2025, which will be our 50th year. We'll be planning some celebratory events for this milestone anniversary. If you have any thoughts or suggestions about how we might mark this occasion, please let us know.
Thanks, Happy Holidays and see you @ SJC 2023!
Sincerely,
Doug Kim SJC Director